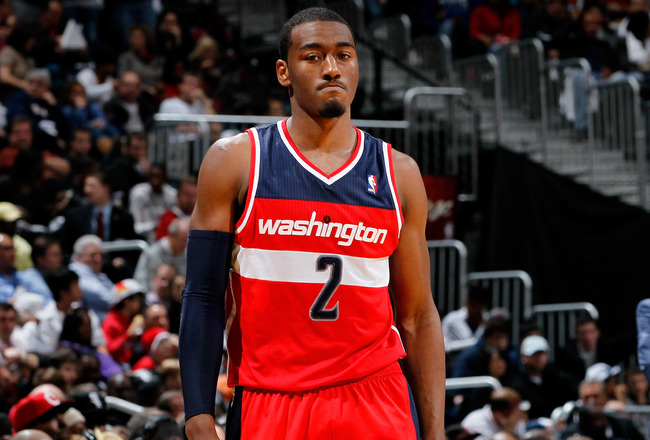 Thank God that game is over. For those of you that watched, well. . . you understand. Tonight's game vs. the Clippers was never competitive and the fact that the Wizards only lost by 26 doesn't do the Clippers' domination — and Wizards' ineptitude — enough justice.
To avoid torturing and depressing you all we'll go with a bullet point recap:
You think the Wizards' half-court offense was terrible before? Tonight it found a new low.
As frustrating as Nick Young can be, there's really no consistent threat of scoring in a half-court set when he's on the bench.
Chris Paul had only 2 points on 1/9 shooting… and the Wizards still got embarrassed.
Blake Griffin was dying to put JaVale McGee on a poster, but he wasn't able to. However, he did have seven dunks on the night.
Kevin Seraphin once again looked lost and confused most of the time even though he had a nice stat line of 8 points and 8 rebounds.
Rashard Lewis is utterly useless. That's just one example.
One of the Clippers' scoring threats, DeAndre Jordan, had 18 points, except for the fact that he's never a scoring threat.
Brian Cook got playing time for the Clippers. If I had told you that before even watching the game you could've figured out how the game went.
Trevor Booker got the start at power forward over Jan Vesely, but got into early foul trouble against Blake Griffin.
For the third straight game, Hamady Ndiaye got one minute of playing time for the Wizards. It's becoming a common occurrence.
Chris Singleton scored his first points since the Rockets game on January 27th. He had 9 points tonight.
Roger Mason had a +/- of +6. So, once again, at least he had that going for him.
Going forward, Jan Vesely is going to have to provide something other that pick-and-roll defense. He got exposed as a starter and tonight off the bench he offered little — not unlike everyone else.
John Wall had a few highlight plays. He had a confident jump shot, nice crossover and floater, and a tough finish at the rim.
Really, this game was an embarrassing one to watch. It looked like the varsity team playing the JV squad, and the Wizards were a bad JV squad, at that, tonight.
Next up for the Wizards are the Toronto Raptors on Monday night. The same Raptors team that beat them by 17 on Friday night without Andrea Bargnani.
—
Follow me on Twitter @WizOfAwesKevin
—
Tags: Chris Singleton Hamady Ndiaye Jan Vesely Javale Mcgee John Wall Nick Young Trevor Booker Wizards