The Washington Wizards have a Bradley Beal problem
The Washington Wizards are stuck in limbo, between a rebuild and hope for next season. If not for Bradley Beal, they'd have clear direction.
The Washington Wizards don't know what they want to do. Part of them wants to tear it all down and rebuild, and the other part of them wants to "stay the course" and hope John Wall returns with his full abilities in tact.
It's a bit of a pipe dream, as I've written about before, but Washington Wizards fans largely seem to be on board remembering all the days gone by of Wall blowing past defenders and being the fastest guy on the basketball court. Even if he returns from this injury and plays at the same level as before, like Rudy Gay or Dominique Wilkins, the fact remains that he's another year older, and he didn't even play basketball in that year.
John Wall will be thirty years old when he returns. By all accounts, and with copious amounts of data to support it, he'll be well on his way to a decline in his abilities.
But that's not the problem. Even if he's diminished, John Wall was such an impressive talent that he'll still be a serviceable point guard for a playoff team, or even a championship team. The problem, instead, lies with 26-year-old Bradley Beal who happens to be right smack dab in the middle of his prime.
And he's playing like it too, with 50-point performances and sitting at second in the league in scoring. Aside from his three-point shooting, he's also shooting above his career average now from the field, and is putting up his third best true shooting percentage of his career.
Where the knock on him earlier this season was efficiency on the offensive end, the only real knock on him now is that he's maybe not the most ideal defender. But that's really not what we pay him to do, and he's playing elite level basketball on the offensive end.
The problem is that he's wasting his considerable talents at the very peak of his prime, which makes his comments in January make even more sense. On a personal level, he absolutely should be frustrated with losing as each game and day that passes wastes the maximum output of his career. Though he'd be wise to exercise some patience in some fans' eyes, that's hard to see when you feel like you're doing everything you possibly can for your team and still seeing L's stack up.
The Beal problem was compounded by Tommy Sheppard extending him a massive three-year extension in October, which was great PR for the reeling Washington Wizards front office to save some face in many fans' eyes by making good on making Bradley Beal a Wizard for life. But it was awful in terms of locking us into a player during a time where we really aren't competing at a high level.
An extension for Beal would be fantastic news and absolutely the right move if we were, in fact, playing for a championship right now. But the Washington Wizards just do not have the up and down roster talent necessary to make an extended playoff run, even in the weaker eastern conference.
I know this won't be a popular opinion with most of the Washington Wizards faithful, but it's something that needs to be said. Now that we're in this mess, committed to Beal long-term and lacking the talent to surround him besides a diminished John Wall, what do we do?
There are a few options, including trading Beal in this upcoming offseason which would be the first chance we can do it since we couldn't trade him at the deadline this season due to his extension. In doing so, we would be committing fully to the rebuild of this franchise. It may be the smartest move, as we can probably flip his contract and talent for a Russell Westbrook-like haul of picks and young talent.
Another option would be to trade Wall to a contender and commit to Beal being "the man" for the next five years or so, but that probably won't sit well with the backcourt duo being so close-knit. Plus, the Washington Wizards right now are absolutely awful when Beal scores a bunch of points, and I don't see that changing anytime soon.
So the last, and perhaps best, option is for the Washington Wizards' ownership to finally open their pocketbooks and commit to winning now completely. Keep Wall, keep Beal, and make a splash either in free agency or via trade to land a third star to place alongside these two.
It's going to mean signing someone who is better than Davis Bertans, and probably moving on from one of the many young, talented players that Tommy Sheppard has amassed for this roster. Isaac Bonga, Troy Brown, Thomas Bryant would all be up for grabs in this scenario, as well as Moritz Wagner and perhaps some draft picks.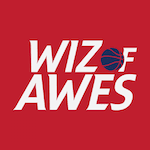 But you have to make sacrifices if you're going to go get talent that will help you win now. And you have to commit one way or another, not just sit indefinitely in limbo, if you want to be a relevant team in this league.
To be clear, I think the Wizards' newly minted is doing a decent job overall, but this one cloud is currently hanging over the franchise's and its fans' heads and it really isn't sitting well with me at all. I would like to see us commit one way or another, otherwise we have a clear Bradley Beal problem in my mind.