The Washington Wizards lose in heartbreaking fashion to Hawks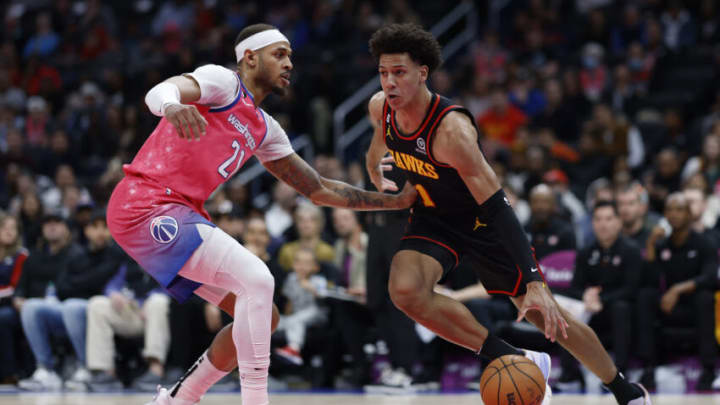 Daniel Gafford of the Washingotn Wizards defends Jalen Johnson of the Atlanta Hawks Mandatory Credit: Geoff Burke-USA TODAY Sports /
Once again, the Washington Wizards find themselves on the wrong side of a bad loss. They hosted the Atlanta Hawks and for a majority of the game it was a very winnable game. In fact, they probably should have won this one.
They had a double-digit lead midway through the third and had plenty of opportunities to keep pressure on the Hawks with easy looks near the rim. Instead, they missed easy shots and committed horrible turnovers.
They would lose 122-120 after refusing to pass the ball to the guy with 43 points during the clutch. Kristaps Porzingis, despite being a man on a mission tonight, only took three shots near the end of the game, all of which were bail out threes after a rough iso play from Bradley Beal.
The big three combined for 92 points. That is a season high and nearly hitting the century mark. What else do they need to do to win a game?
What went wrong for the Washington Wizards?
Despite the excellent play of Kyle Kuzma and Kristaps Porzingis, very few other players showed up. Bradley Beal fell apart down the stretch, Deni Avdija had his second straight bad game, and Corey Kispert was the only player outside of the big three that scored in the double-digits.
The turnovers piled up fast and it really held the team back, many of which were unforced. This allowed the Hawks to come back into the game after being down big.
On top of this, Porzingis and Avdija struggled to box out late in the game. They allowed the Hawks to get second chance opportunities and clean up their mistakes. Part of this was due to a brief Daniel Gafford injury, but allowing numerous offensive rebounds late in the game in a close matchup is inexcusable.
This game was a must win game for the Washington Wizards and they should have won it. This is the seventh time where they have had a big lead in a game and go on to lose. They lead the league in that metric.